Life
Sculptor Leilah Babirye: 'In Uganda you can be jailed for talking about gay issues' | Sculpture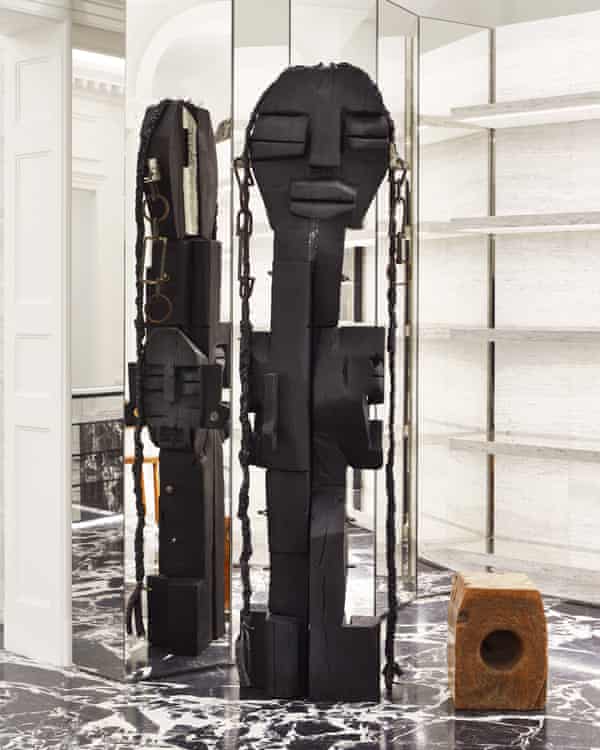 Leilah Babirye is describing what it's prefer to go on a pleasure march in her native Uganda. "It never ends peacefully," she says, laughing grimly. "It's always police raids, everybody scattering." The artist and LGBTQ+ activist made costumes for one occasion in 2012, together with masks for pals too frightened to indicate their faces. "But as soon as we step on to the beach, there's police everywhere. So we have to go back home."
Babirye talks to me over Zoom from the place the place she spends most of her time: her basement studio in Brooklyn. It's populated by her artworks: boldly colored, sensuous work of imaginary heroes; large ceramic sculptures of faces glazed in jewel-like shades; and her signature items, chiselled picket figures a bit like totem poles, lovingly painted and buffed, embellished with objects Babirye has discovered on the street starting from bike chains to an previous chandelier. They are daring (as tall as 15ft), idiosyncratic, and stuffed with persona. She factors her digicam at one, which is heading to New York's prestigious Whitney museum.
More work can at the moment be seen in two areas within the UK. Babirye has a inexperienced and cream ceramic head in the biennale rounding off Coventry's year of culture; in the meantime a nine-foot determine will preside over the London flagship retailer of style home Celine, commissioned by its inventive director Hedi Slimane, the primary work Babirye has ever made to order. "I wanted it to be very simple," says Babirye. "I just put a little bit of sheet around it – and it's the first piece where I didn't attach wooden ears. I just used metal." With closed eyes, a robust nostril, and chain and cord hanging from head to toe, the sculpture radiates gentleness and peace.
Babirye was born in 1985 and introduced up in Kampala, the capital of Uganda, a nation the place gay intercourse carries a life sentence, public attitudes are overwhelmingly hostile, and LGBTQ+ activism is unlawful: "You can be in prison if you're even caught with a person talking about gay issues." Not that this stopped Babirye, a lesbian lively within the underground LGBTQ+ (recognized in Ugandan as "kuchu") scene. In a clandestine gay bar, she says, "you have a back door so if you hear that police are coming you all rush out. We always knew how to get away."
By 2015, nevertheless, Babirye was operating out of choices. She had been outed in Uganda's virulently homophobic press, and when she instructed her tutors on her masters course at Makerere University that she wished to discover her sexuality in her artwork, they refused to oversee her. A working artist by then, she utilized for residencies within the UK, Sweden and the US, and got one in Fire Island, the gay vacation enclave 60 miles from New York. The artist Kehinde Wiley paid for her ticket. "By then I wasn't talking to my father any more, so it didn't make any sense going back home after the residency," says Babirye, whose household have since disowned her. Do they know she's a profitable artist? "I don't know, probably they're watching somewhere. I don't bother looking for them."
Babirye utilized for asylum within the US, obtained it in 2018, and has lived in New York ever since. She tells me she works 5 days per week, and takes weekends off to look at TV (her present favourites are Queen of the South and "Squid"). She says she hasn't obtained many pals – "People here are a little bit crazy" – and avoids going to different artwork exhibits. "There's a lot of artwork in New York and a lot of galleries. I don't want it to get into my mind – it's a lot."
Like all her sculptures, the Celine piece carries the title of a Ugandan clan – on this case the crested crane. There are 52, named after "animals, plants, mountains, objects". Babirye is from the antelope clan. The level is, she explains, that each LGBTQ+ individual in Uganda has been given a clan title at start – and even when these clans disown them, they nonetheless can't take away their names. In different phrases, her sculptures symbolize Uganda's queer group, who proceed to be born, exist and aren't going wherever, irrespective of how a lot they're persecuted.
There's an irony Babirye relishes in exhibiting her work within the UK. Before the British colonised Uganda in 1894, bringing Victorian Christianity with them, nobody cared about same-sex exercise. Even King Mwanga II, who was ruling earlier than the British protectorate, was bisexual. It's tempting to assume that Babirye's work alludes to a pre-colonial, indigenous Ugandan sculptural custom, however she says there isn't one: "The only sculptures we have are just ceramic ware for cooking, or spears for fighting wars." The masks, in the meantime, are a West African factor (Uganda is within the east) utilized in her work to nod to these pals pressured to cover behind them, for worry of hostile publicity. "You're always running, trying to be safe," she says of her life being a lesbian in her residence nation.
An knowledgeable with a chisel, Babirye aspires to make sculptures from the wooden of the jacaranda tree, as she says it's one of the best to carve with, however her sculptures are primarily comprised of pine purchased from New York lumber yards, often utilized in constructing development. "You don't want to tell them you're an artist," she says, "or they'll increase the price."
The proven fact that such imposing sculptures have been comprised of lumber and scrap is important. Queer persons are usually referred to in Uganda as "ebisiyaga", the husk of a sugarcane – in different phrases, nugatory garbage. With her magnificent monuments to Uganda's hidden LGBTQ+ group, Babirye exhibits that trash can have energy, and be lovely.